Retail Store Business Financing
Retail is the selling of goods and services to consumers (B2C) as opposed to wholesaling to other businesses (B2B). With so many options in the field, you are bound to hit on a lucrative idea. But opening your own company may take the right retail business financing. This article will discuss various types of retail business loans so you can decide on the one that's right for you.
What is a retail business loan?
A retail business loan is a type of financing provided by a financial institution. The money is used to purchase and cover business-related expenses and it must be paid back with interest. In most cases, retail business loans are installment loans with fixed monthly payments.
How does a retail business loan work?
Retail business loans work differently depending on the type of loan you are applying for. However, they all should have some elements in common as follows:
Qualifying: The first step in retail business financing is to qualify for a loan. Most lenders will want to see a good credit score and a strong business history, but others will take inventory, equipment, unpaid invoices, or real estate as collateral instead.
Use funds for business expenses or investments: The funds provided must be used to cover business-related expenses unless the lender states otherwise. Most loans will cover any type of business expense, but some collateral loans are specific to inventory and equipment.
Repaying the Loan: The loan will need to be repaid with interest in most cases. Usually, a daily, weekly, or monthly schedule is worked out, but some plans are more flexible.
Can you get a retail business loan?
Business owners will be able to get retail business financing if they qualify. Most lenders will want to see a good credit score as well as a business history that shows a few years in business and steady revenue. Others will look at collateral instead. If you have a legitimate business and the right documentation you can qualify for a retail business loan.
How do retail stores get funding?
Retail stores typically get funding through a bank, credit union, or online lender. Comparing offers online is a time-saving way to narrow down which lenders are your top choice to work with. Some lenders may have lower rates or more favorable terms. In addition, some lenders will have more perks. Before applying, be sure to gather documents such as tax returns, business licenses, and so forth. You should also check your credit score to make sure there are no easy improvements that can be made to boost your score. When you are ready, you can check offers online with no impact on your credit score. 
Example of a retail business loan
Let's say you are looking to grow your business. To do so, you will need to purchase more equipment. If you pay cash for the equipment, cash flow will suffer or some operations may need to be put on hold. In this scenario, you could use a business loan to finance the equipment and make monthly payments with interest instead. 
Types of retail business loans
There are a variety of retail business loans you may qualify for. These include:
Equipment Financing: An equipment financing loan must be used to pay for equipment only. The equipment is used as collateral, so credit score and business history are not taken into high consideration. However, if the business defaults on payments, it could lose its equipment.
» MORE: Equipment Financing Options
Business loans: A traditional business loan is generally an installment loan that is extended to business owners for business use only. Business loans are a good choice for making one-time purchases.
» MORE: Business Loan Options
Business line of credit: A business line of credit is a revolving line of credit, similar to a credit card, that is usually secured by an asset. A line of credit should offer much lower rates than a credit card and larger credit limits too. A business line of credit is best for retail businesses that need access to cash regularly or need to improve cash flow.
» MORE: Business line of credit
SBA 7(a) Loan: The Small Business Administration (SBA) also provides loans for businesses. In fact, the SBA is an independent government agency in place to help small businesses with funding. While it may be difficult to qualify, there are many perks of using an SBA loan. You will need to find an authorized SBA lender to apply. Some banks can offer SBA loans.
The SBA offers many types of loans, but the 7(a) is their most popular. It is most suitable for businesses that need to purchase real estate, but it can also be used as working capital, to refinance business debt, and to purchase business supplies and equipment. The maximum loan amount is $5 million.
» MORE: Compare SBA Loans
Inventory Financing: Inventory Financing is a good option for business owners that can't show a high credit score and business history. It involves selling the invoices you haven't collected to a financial institution. The company will pay you for your invoices minus a fee and will then collect from your customers. This is a good way to get a quick infusion of cash into your business.
» MORE: Inventory Financing
Merchant Cash Advance: A merchant cash advance allows a business to borrow against its future earnings. It's a viable option for companies that can't yet qualify for other types of business financing. It is repaid based on a percentage of credit card sales or daily business sales. Terms vary by lender.
» MORE: Merchant Cash Advance
Cash advances are easy to qualify for and can get approved in as little as 24 hours. However, lenders tend to charge steep fees.
What type of interest can I expect to pay on a retail business loan?
Interest rates on business loans vary depending on your qualifications.
If you can show a lender that you have a high credit score and good business history, it will prove to them that you are low risk. Therefore, the retail business financing they offer should have reasonable interest rates. For example, most banks offer interest rates between 5 -10%.
If you are unable to show these qualifications, you will be considered high risk and the interest rates will likely reflect this. You may be paying APRs (which include interest rates and fees) in the teens, twenties, or higher.
How fast can I get funded?
The amount of time it takes to get funded for retail business loans varies. It can depend on the lender, the type of loan, documentation needed, and other factors. If you need funds quickly, we suggest using an online lender. A bank can take weeks to months to fund a loan whereas most online lenders can fund them within just a few business days. 
What is the minimum credit score to qualify for a retail business loan?
Minimum credit score requirements can vary depending on the lender and the type of loan. Even though you are applying for a business loan, your personal credit score is often taken into account. 
When it comes to retail business loans, the higher your credit score is, the less interest you will likely pay. However, there are some basic guidelines regarding what you need to qualify. Here's a summary of what you can expect.
700 or Above: If your credit score is 700 or above, you should be able to qualify for just about any loan.
640-700: A score within this range should still get you qualified for most loans. However, it will help if you can back up your score with a strong business history that shows you were in business for a year or two and have a revenue stream ranging from $50,000 to $250,000.
600-640: If your score is this low, you may be limited to alternative loans that come with high interest rates.
550 to 600: A score in this range may limit you to alternative loans with very high interest rates. A merchant cash advance or invoice financing may be a better option.
500 or Below: Business owners with credit scores of 500 or below may be limited to merchant cash advances with sky-high fees.
How to get approved for a retail business loan
The steps to take to get approved for a retail business loan will vary according to the type of loan you are applying for. However, you will need to start by getting prequalified. Getting prequalified for a few lenders can help you determine which can offer you the best loan. At PrimeRates, you can check offers for business loans from top-rated lenders. Once you are prequalified lenders may ask for supporting documentation before approving your loan. Once your loan is approved, you should receive funds in a timely manner. 
Ready to apply?
If you're ready to apply for retail business financing, your first step will be determining which lender and loan are right for you. To simplify the shopping process, start by checking offers at PrimeRates. Within minutes you can find the loan that is just right for you.
PrimeRates provides access to personalized business loan offers through our simple and quick pre-qualification application. Once you're pre-qualified, you can select the best offer for you and finalize the business loan application with the lender.
Apply in minutes

Our simple application takes less than 5-7 minutes to complete.

Select your business loan offer

Choose the offer that best fits your needs by comparing loan amounts and terms.

Receive funds quickly

Finalize your loan offer with the lender you selected to receive your funds.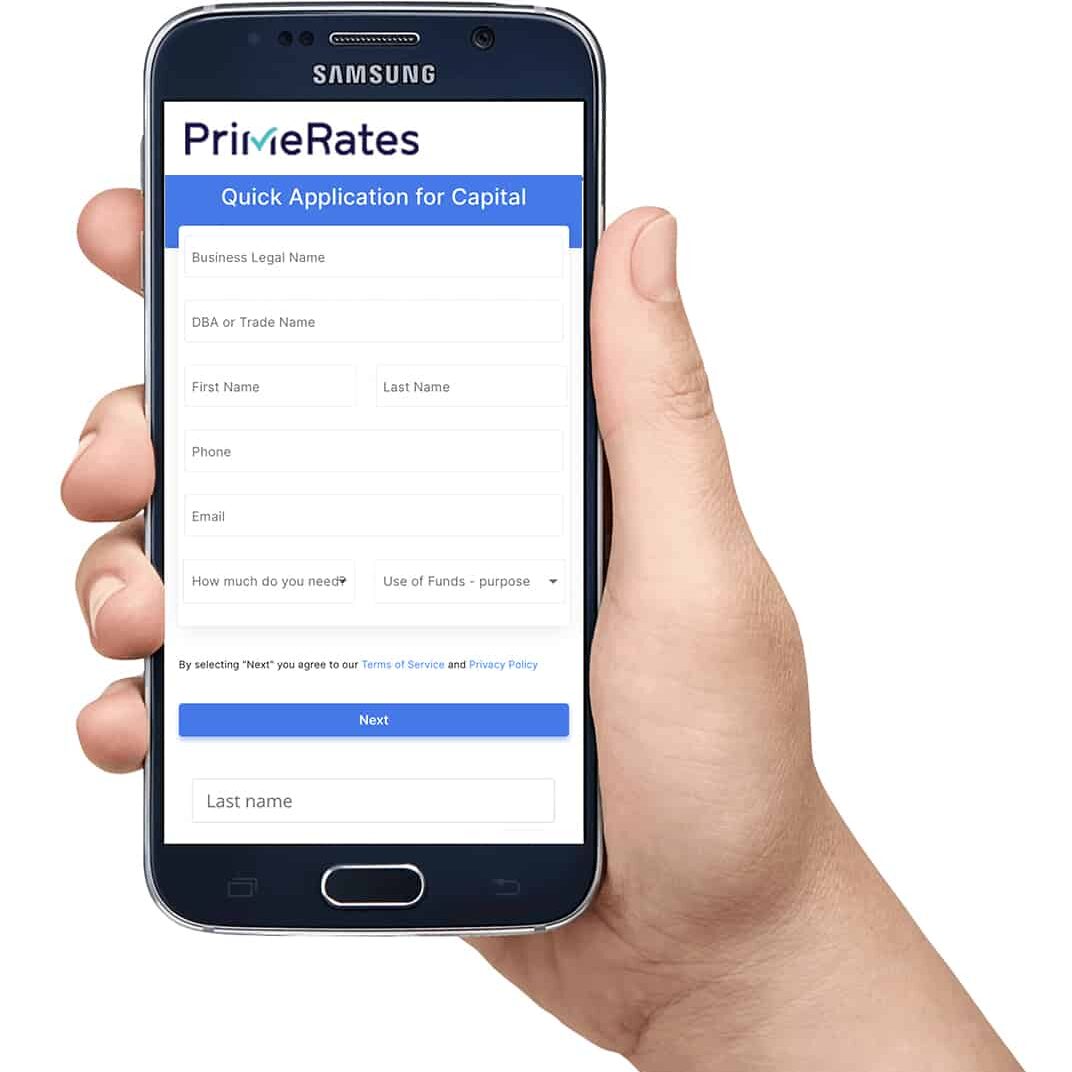 What Type of Business Do You Have?
Business Loans By Industry