What Type of Business Do You Have?
SBA, or Small Business Administration loans, offer a low-cost way for highly qualified business owners to access substantial loan amounts. SBA loans can reach up to $20 million, with annual percentage rates typically ranging between 4.99% and 10.25%. These loans can be used for working capital, refinance already-existing debts, or for making large real estate or equipment purchases. They usually require a credit score above 680 and at least two years in business.
SBA Loan Types
SBA 7(a) Advantage Loans:
SBA 7(a) Community Advantage loans help borrowers who meet the minimum SBA eligibility criteria but who do not qualify for a standard loan because of low revenues or collateral, access loans of up to $250,000.
CDC/SBA 504 Loans:
 CDC/SBA 504 Loans are best for financing owner-occupied commercial real estate purchases, repairs, construction, or renovations. These loans are offered in amounts between $14-20 million, with repayment terms of 10 or 20 years. To qualify for one, you should be able to make a 10% down payment, your real estate must be at least 51% owner-occupied, and you must meet job creation or public policy goals.
Micro Loans:
Nonprofit intermediary lenders can gain access to an SBA loan through the SBA Microloan program. The microloans are offered in amounts of up to $50,000 and with repayment terms of up to six years and are best for small businesses or nonprofit child care centers.
Disaster Loans:
SBA Disaster Loans are offered to help businesses recover from major emergencies and disasters that have impacted them physically or economically. These loans are offered in amounts of up to $2 million, with repayment terms of up to 30 years. They also come with extremely low APRs, with rates ranging between 4% and 8%. To qualify, your credit score should be above 660 and your business must be located in an SBA-declared disaster area.
SBA Express Loans:
While a standard SBA loan application can take several months to process, an SBA Express loan application processes within just 36 hours. Unfortunately, if you're seeking more than $350,000, this type of SBA loan won't be the right option for you. Additionally, Express Loan interest rates can be higher than with a standard SBA loan.
Export Loans:
Export Loans are offered in amounts of up to $5 million and are specifically designed to assist businesses who want to enter new foreign markets, conduct international transactions or boost their exports.
CAPLine Loans:
Small businesses can gain access to four SBA lines of credit, with amounts of up to $5 million through the SBA CapLines program. This type of SBA product is designed to help businesses finance cyclical or short-term expenses.
SBA Loan Requirements
To qualify for an SBA loan, you should have a personal credit score above 680, have sufficient cash flow to cover your loan, and have over two years in business. Additionally, commercial real estate loans must be 51% owner-occupied, and you must be able to make a down payment of 10% or more if you're using the funds to purchase a new business.
You should also have less than 500 employees or make less than $7.5 million in annual sales, and be engaged in an eligible industry.
SBA Loan Repayment Terms
SBA loans come with some of the most flexible repayment terms in the industry, with terms ranging from 10 years for smaller loans to 30 years for disaster loans and amounts ranging into the millions.
SBA Loan Guarantees - What Is Required?
All SBA loans require a personal guarantee on the behalf of at least one business owner, and a guarantee is required for all individuals who own 20% or more of the business. When you take out an SBA loan, you'll either agree to an unlimited personal guarantee, allowing the lender to recover 100% of the outstanding loan balance or to a limited personal guarantee, which allows the lender to recover a portion of the outstanding balance.
How to Apply for an SBA Loan
If you apply for an SBA loan through an online lender, you'll just need to have the necessary documents ready to submit through the lender's website. If you're applying through a traditional bank, you may have to submit the necessary documents in person. Once you submit an application for your loan, you should expect to hear back within one to two weeks. If the lender wants to move forward with your application, they'll send you a Letter of Intent, outlining the amount and rate that you could qualify for.
Afterward, you'll complete the underwriting process which typically takes two to three weeks. You'll then receive an SBA commitment letter, and complete the closing and finalization process.  The entire application process can take up to three months.
Try Fundera
Loan Amounts
$5,000 to $500,000
APR Range
Term Loans: 7% - 30%
Startup Loans: 7.9% - 19.9%
Repayment Terms
Term Loans: Up to 10 Years
SBA Loans: Up to 25 Years
Time to Funding
Varies
Click "Check Rates" to apply to Fundera
SBA Loans Comparison - SmartBiz vs Lendio
Loan Amount:
$30,000 - $350,000
APR Range:
9.7% - 11.04%
Time To Fund:
Typically take several weeks to fund, but can fund as quickly as within seven days.
Loan Term:
Maximum loan term is 10 years.
Origination Fee:
4.00%
How To Qualify:
675+ Personal credit score
$50,000+ Annual revenue
Great Option For:
Borrowers with good credit
SBA loans
Funding real estate purchases
Refinancing debt
Credit Check?
Soft credit check and hard pull
Co-Applicants Accepted?
No cosigners
Direct Pay-Off To Creditors?
No
Click "Check Rates" to apply to SmartBiz
» MORE: SmartBiz SBA Loan Review
Loan Amount:
$1,000 to $2 million
APR Range:
30% maximum APR
Time to Fund:
Access your capital in as little as 24 hours
Loan Term:
1 to 25 years
Origination Fee:
Varies
How To Qualify:
550 minimum credit score
$12,000+ Annual revenue
Great Option For:
High loan amounts
Small businesses with low annual revenues
Business owners with below-average credit score
Credit Check?
Soft credit check and hard pull
Co-Applicants Accepted?
No cosigners
Direct Pay-Off To Creditors?
No
Click "Check Rates" to apply to Lendio
How Long Does It Take To Get An SBA Loan?
It can take up to three months to complete the SBA application and funding process. However, with online lenders like SmartBiz, you can get a decision and funding within 30 days of your initial application. Additionally, the SBA Express program offers an expedited decision process, with an answer given to applicants within just 36 hours.
Conclusion
There are several different options for taking out an SBA loan. Before taking the time to apply and gather your paperwork, make sure to evaluate your needs and eligibility based on your annual income, industry, credit score, and business goals.
PrimeRates provides access to personalized business loan offers through our simple and quick pre-qualification application. Once you're pre-qualified, you can select the best offer for you and finalize the business loan application with the lender.
Apply in minutes

Our simple application takes less than 5-7 minutes to complete.

Select your business loan offer

Choose the offer that best fits your needs by comparing loan amounts and terms.

Receive funds quickly

Finalize your loan offer with the lender you selected to receive your funds.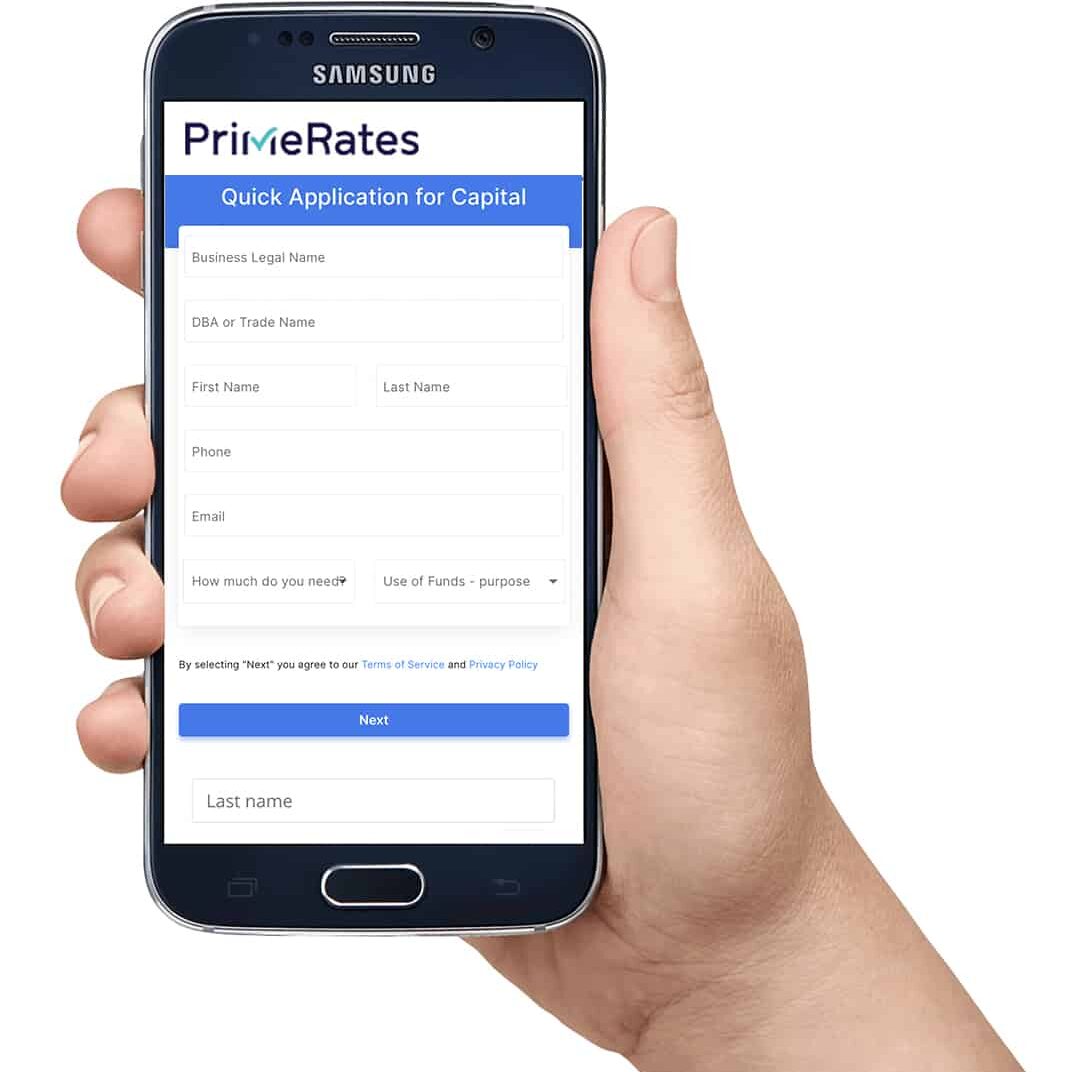 More Business Loan Options