PrimeRates provides access to personalized loan offers through our simple and quick pre-qualification application. Once you're pre-qualified, you can select the best offer for you and finalize the loan application with the lender.
Apply in minutes

Simple pre-qual application in less than 1 minute. 

Select your loan offer

Choose the offer that best fits your needs.

Receive funds quickly

Finalize your loan offer, get approved, and receive funds.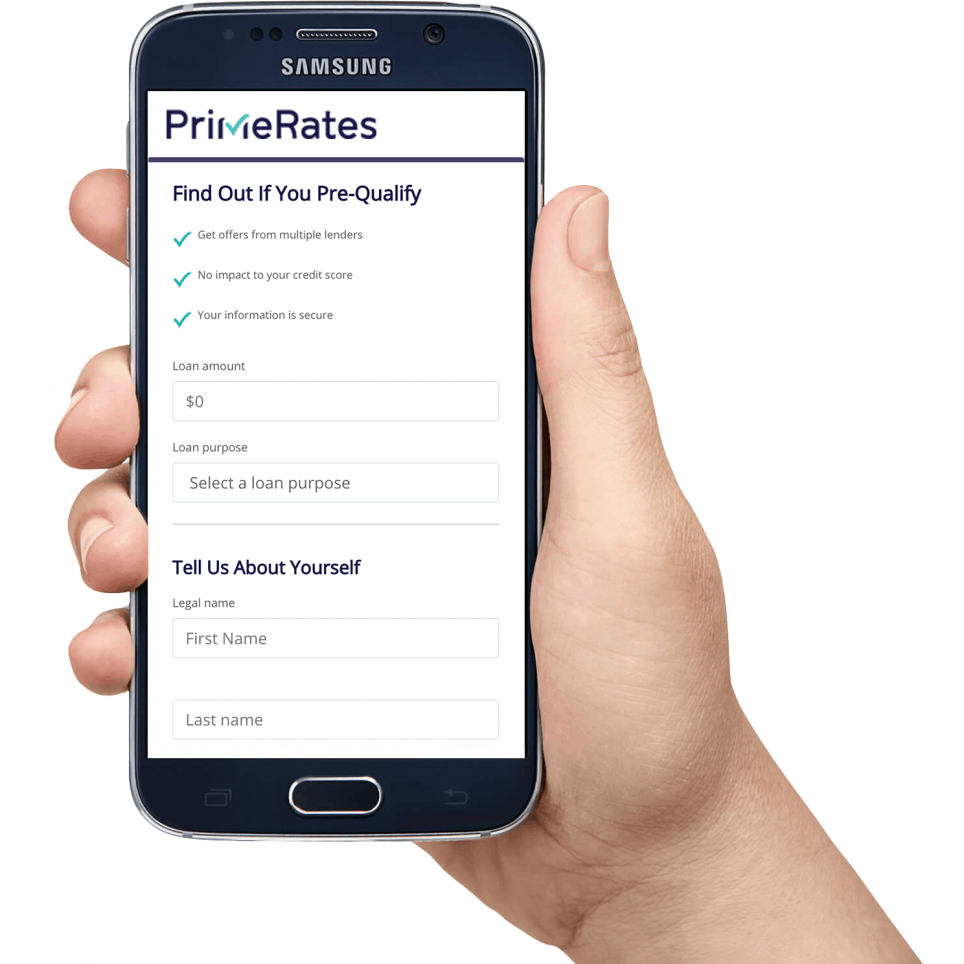 Best Personal Loans For Bad Credit
Do You Have Bad Credit? You Can Still Get Approved.
If you haven't always been a responsible borrower, your credit report likely reflects your less-than-stellar past. But everyone makes mistakes from time to time and even the poorest remarks will fall off your report eventually. But, if you need cash now and can't afford to wait for time to repair your damaged reputation, you might be looking for the best personal loan a bad credit score can qualify for.

What Is a Bad Credit Score For Personal Loans?
Before you begin applying for a personal loan, it's good to know where you stand and what constitutes a poor credit score. Both FICO scores and Vantage scores range on a scale from 350 to 850, and, in each case, the average score in the U.S. tends to hover around the mid- to high-600s.
Most lenders would consider a score in this range favorably, whereas scores below 620 would earn approval less frequently. And scores of 580 or less are generally regarded as poor, which makes it difficult for potential borrowers in this category to secure the funds they seek.

Personal Loans For Poor Credit - 580+
If you're shopping around the for the best unsecured loans for bad credit, here's a closer look at three of the lenders most likely to give you the green light.

APR range: 9.95-35.99%
Available loan terms: 36 to 60 months
Loan amounts: up to $35,000
Time to fund: N/A
Origination fee: up to 4.75%
Credit needed: 580+
Click to apply with Avant

APR range: 15.49-34.99%
Available loan terms: 24 to 48 months
Loan amounts: up to $25,000
Time to fund: N/A
Origination fee: 5% of loan amount
Credit needed: 600+
Click to apply with LendingPoint
Avant: Avant requires a minimum credit score, however, that score is a very attainable 580. (It's important to note that most of Avant's borrowers do have scores of at least 600, though.) For qualified borrowers, Avant offers loans ranging from $2,000 to $35,000 with interest rates starting as low as 9.95% and going up to 35.99%. There's also an administration fee to keep in mind, which ranges from 1.50% to 4.75%. On the other hand, there are no prepayment fees with Avant, which many borrowers appreciate.

LendingPoint: If your credit score has been dragged down by derogatory marks, LendingPoint is more likely to approve you than many other lenders. Even if you've declared bankruptcy in the past, you can still qualify for a loan with LendingPoint. Unlike Avant, LendingPoint never charges any late fees, nor will you get hit with an insufficient-balance fee in case you're ever overdrawn. That said, LendingPoint's interest fees are significantly higher than Avant's, starting at 15.49% compared to 9.95%. Another drawback is that LendingPoint's origination fee can be as much as 6%, while Avant's will never exceed 4.75%.
Lenders that Offer Secured Loans
Unlike Avant, some lenders offer borrowers both secured and unsecured loans. If you have the title to a vehicle or equivalent collateral, you can qualify for a secured loan with a lower interest rate than you'd likely receive on an unsecured amount. But, then again, you could end up losing your set of wheels if you're late making a payment.
» MORE: Secured Personal Loans
Lenders that Accept Cosigners
If your credit isn't strong enough on its own to qualify for a loan, you might wish to enlist a cosigner — a friend or family member who has better credit and can help you secure the funds you need. Using a cosigner isn't always the best move for everyone, so make sure to do your research and consider your options carefully. Also, keep in mind that many lenders won't even accept cosigners.
» MORE: Personal Loans With Co-Signers
Tips to Get a Personal Loan with a Credit Score of 550 or Less
Although a credit score lower than 550 is likely to turn off a lot of lenders, it's not impossible to get a personal loan with a score in that range. Start rebuilding your credit reputation by getting a secured or unsecured loan and making a point of paying your bill as soon as it arrives.
How to Get a Personal Loan With Bad Credit
If you're ready to get the best personal loans for bad credit start by applying with the lenders featured above. Each of them has their own set of strengths and weaknesses, but at least one of them will certainly be right for you.
Other Personal Loan Types
Top Personal Loan Articles