PrimeRates provides access to personalized loan offers through our simple and quick pre-qualification application. Once you're pre-qualified, you can select the best offer for you and finalize the loan application with the lender.
Apply in minutes

Simple pre-qual application in less than 1 minute. 

Select your loan offer

Choose the offer that best fits your needs.

Receive funds quickly

Finalize your loan offer, get approved, and receive funds.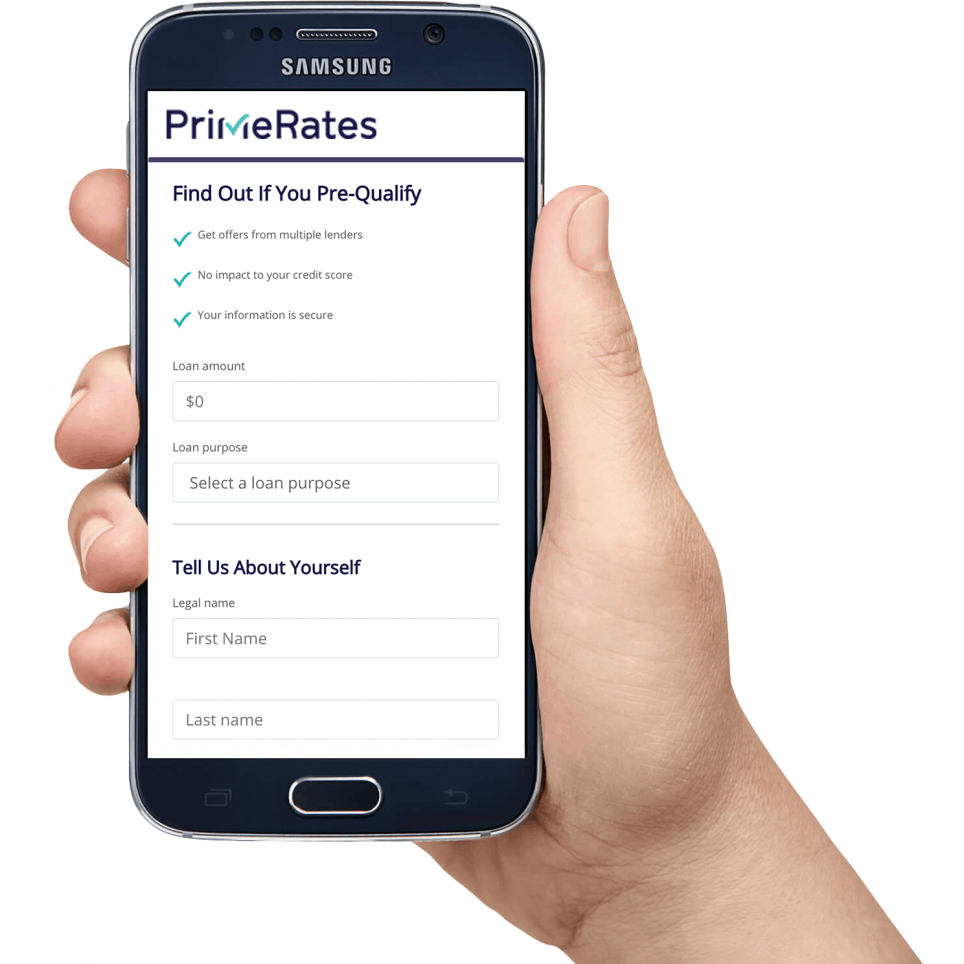 Best Personal Loans For Good Credit
If you've made it a point to pay your bills on time month after month and year after year, you've likely earned a FICO score you can be proud of. But what's the point of maintaining such a meticulous credit record if you don't take advantage of it every once in a while? This is especially true now that personal loans for good credit applicants are more affordable and attractive than ever before.
Whether you'd like to finance an exotic vacation, remodel your kitchen, or invest in a new car, a personal loan can go a long way for individuals who've developed reputations as reliable borrowers. Yet if you're not sure where to start when it comes to getting the best personal loans with a good credit score, here's a quick overview of some of today's most appealing lenders and their unique advantages.
Personal Loans For Excellent Credit - 700+
If your credit score is well into the 700s, you essentially have your pick of the best lenders in the marketplace. Generally speaking, one loan provider will be a better fit for you than another based on your specific situation. But if you've got a spotless credit record, here are three personal loan providers you should definitely consider.
LightStream: Exclusively for borrowers with impeccable credit, LightStream loans feature low fees and are often for higher amounts than many providers offer. LightStream loans are also frequently assigned custom interest rates.
SoFi: Offering competitive rates and above-average loan amounts, SoFi (short for "social finance") stands out from the crowd by being one of the few providers to include unemployment protection built into its personal loans. It's hard to put a price on such peace of mind.
Marcus: With a dual focus on loans for debt consolidation and large purchases, Marcus is perhaps best known for not charging sign-up fees, prepayment fees, or any fees of any kind. That's why borrowers with excellent credit, and a desire to keep costs low, love Marcus so much.
» MORE: Best Loans For Excellent Credit
Personal Loans For Good Credit
Although missing a payment due date isn't the end of the world, it's certainly not a good thing for your credit report. Delinquent payments stay on your record for years, yet unless you have several of them that are relatively recent, odds are in your favor that you can still get approved for a personal loan. So if your credit isn't quite perfect — but it is above average — here are two lenders with the best personal loans for good credit applicants.
Best Egg: Famous for its fast approval process and great service, Best Egg delivers decisions to loan applicants mere minutes after they submit their requests. And if your application is approved, the cash can be transferred to your bank account during the same business day.
Prosper: One of the most well known peer-to-peer lending platforms in the industry, Prosper takes the hassle out of applying for personal loans and makes the process incredibly easy. Prosper loans can be used for nearly any purpose, and rates are relatively low compared to most competitors.

APR range: 6.95-35.99%
Available loan terms: 36 to 60 months
Loan amounts: up to $35,000
Time to fund: One to three business days after approval
Origination fee: Ranges from 2.4% to 5% of the initial loan amount
Credit needed: 640+
Click to apply with Prosper
Personal Loans For Credit Card Consolidation
While vacations and new cars are always fun, many responsible individuals will take out personal loans to consolidate outstanding debts and leverage lower interest rates. If you're the owner of an impressive credit score — but you're also carrying an annoying financial burden — here are two of the best loans for good credit consolidation.
Payoff: This lender provides personal loans specifically for consumers who want to consolidate high-interest debt. Payoff also grants its customers access to member advocates who offer tools, resources, and ongoing advice to help borrowers achieve their financial goals.
FreedomPlus: Specializing in lending to those who wish to consolidate debt, FreedomPlus allows borrowers to transfer money directly to their creditors, which can result in lower rates. FreedomPlus also provides personalized recommendations about living debt-free for good.

APR range: 8.00%-25.00%
Available loan terms: 24 - 60 months
Loan amounts: up to $35,000
Time to fund: N/A
Origination fee: 2% to 5%
Credit needed: 640+
Click to apply with Payoff
» MORE: Personal Loans For Credit Card Consolidation
Conclusion
If you've put in the effort to maintain a reputation as a reliable borrower, why not take advantage of the best personal loan rates for good credit scores? Whether you want to treat yourself to a trip, invest in a home-improvement project, or simply consolidate high-interest debt, one of these personal loan providers is certain to be perfect for you.
Other Personal Loan Types
Top Personal Loan Articles
Lender Partner Disclaimer
All rates, terms, and figures are subject to change by the lender without notice. For the most up-to-date information, visit the lender's website directly.
SoFi Personal Loans: Fixed rates from 5.990% APR to 16.240% APR (with AutoPay). Variable rates from 5.75% APR to 14.70% APR (with AutoPay). SoFi rate ranges are current as of March 18, 2019 and are subject to change without notice. Not all rates and amounts available in all states. See Personal Loan eligibility details. Not all applicants qualify for the lowest rate. If approved for a loan, to qualify for the lowest rate, you must have a responsible financial history and meet other conditions. Your actual rate will be within the range of rates listed above and will depend on a variety of factors, including evaluation of your credit worthiness, years of professional experience, income and other factors. See APR examples and terms. Interest rates on variable rate loans are capped at 14.95%. Lowest variable rate of 5.75% APR assumes current 1-month LIBOR rate of 2.50% plus 4.28% margin minus 0.25% AutoPay discount. For the SoFi variable rate loan, the 1-month LIBOR index will adjust monthly and the loan payment will be re-amortized and may change monthly. APRs for variable rate loans may increase after origination if the LIBOR index increases. The SoFi 0.25% AutoPay interest rate reduction requires you to agree to make monthly principal and interest payments by an automatic monthly deduction from a savings or checking account. The benefit will discontinue and be lost for periods in which you do not pay by automatic deduction from a savings or checking account.
SoFi Unemployment Protection: If you lose your job through no fault of your own, you may apply for Unemployment Protection. If your loan(s) is/are in good standing at the time you request Unemployment Protection SoFi will, upon approval, suspend your monthly SoFi loan payments and provide job placement assistance during your forbearance period. Interest will continue to accrue and will be added to your principal balance at the end of each forbearance period, to the extent permitted by applicable law. Benefits are offered in three month increments, and capped at 12 months, in aggregate, over the life of the loan. To be eligible for this assistance you must provide proof that you have applied for and are eligible for unemployment compensation, and you must actively work with our Career Advisory Group to look for new employment.